Air conditioning for camping – isn't this something we all dream about on those scorching hot days out in the wilderness?
At first it may seem a little bit peculiar to consider using an air conditioner while camping, and if truth be told this would certainly rather fall under the glamping category for us (nothing wrong with a little glamping from time to time).
The thing is, we notice there are lots of questions surrounding the topic of tent air conditioners. So, in this article we aim to answer all of them.
Use the table of contents to read this article faster
(Just so you know, this page contains affiliate links. This means that if you make a purchase after clicking on one of our links, at no extra cost to you we may earn a commission. For more info, read our affiliate disclaimer.)
Is air conditioning for tents even possible?
Here are a few reasons why some people question the effectiveness of a tent air conditioner.
Air conditioning for camping basically means you are trying to cool a "room" with absolutely no insulation.
There are no air conditioners designed to be used inside the actual tent.
Many camping air conditioners that use batteries usually don't have enough power to keep up with the demand of cooling a room to a certain temperature and then maintaining that temperature.
The fourth and final reason is, most of us don't have access to any electricity while camping.
Besides the various concerns stated above, I can tell you that air conditioning for camping trips is very much possible. Continue reading to find out how.
---
Insulation will keep your tent cooler in the summer
A tent exposed to direct sunlight is usually the cause for poor air conditioning performance.
The tents fabric alone is simply not designed to stop the suns heat transfer. Some tent fabrics can even turn your tent into a makeshift greenhouse, with the CO2 and water vapors trapping the heat inside.
One way you can combat this "greenhouse" effect, is to invest in an inexpensive space blanket.
Simply cover your tent with the aluminum sheet and believe me it will make a huge difference. It does this by reflecting back most of the incoming heat from the sun.
Not only will a space blanket keep your tent cooler in summer, but it will also help keeping your tent warm in winter.
---
Do you have Electricity?
Yes – The majority of public campgrounds have electricity power points, but I still recommend giving the campground you plan on staying at a call just to double check. With electricity you'll have no problem using any portable tent air conditioner, from small window AC units to full tower AC units.
No – If you are heading off grid, perhaps on a wild camping adventure where there is no electricity, you can still bring a portable air conditioner for camping. The only difference is it will have to operate via solar energy or via battery. There are several AC units on the market that run of 12V batteries and can even be charged in your car.
---
What to look for when buying air conditioning for camping
Portability
One tent air conditioner may be easily transported for one person and near impossible for another. This all comes down to your mode of transport really.
Before purchasing air conditioning for your camping trip make sure you understand your vehicles maximum carrying capacity. Think about all the essential camping equipment that needs to fit into your car. Once this has been packed, how much space will you have left over for an air conditioner?
Question to ask yourself:
How much space do I have for an air conditioning unit in my car?
AC Power Level (BTUs)
The higher the BTU output the more power your air conditioner has. This translates to a machine being able to cool a larger area.
Remember, what you want is a consistent, cool temperature in your tent.
If for example you have a small 2 person tent with an air conditioner running on 15 000 BTU's, your tent will definitely get colder faster. The downside to this is your high powered AC will constantly switch on and off adapting to the constant fast changing temperature. This repetitive action will reduce the life span of your AC.
Make sure you find out the appropriate BTU outputting for your tent size before purchasing your tent air conditioner.
For a good-sized family tent, your air conditioner will need at least 5000 BTU capacity. The three most common AC sizes are 5000 BTU, 6000 BTU and 8000 BTU.
Question to ask yourself:
What performance output do i want from my AC unit?
Tent Size
The overall size of your tent will have a large deciding factor on what air conditioning you get for camping.
Keep in mind, if you are a family of 4, your tent will need to cater for all 4 people, plus their luggage and then of course your AC unit, which can take up a fair amount of space.
A general rule of thumb is that each person needs about 30 feet of space to feel comfortable in a tent.
Also, remember that more people sharing a space means your air conditioner will have to work harder to surpass all the body heat being put off.
Question to ask yourself:
How many people will share my tent?
Air Flow & Ventilation
As with any camping experience, you will need to consider airflow and ventilation options. If your air conditioner is 12V battery powered, then don't worry about extra ventilation. Your tents natural ventilation will be sufficient.
Any electric powered air conditioner will require further ventilation to the outside. Portable air conditioners and spot coolers require a smaller vent for a tube to exit the tent.
Most modern tents are now manufactured to consider air conditioning for camping. If your tent doesn't have a ventilation option, you can consider using one of your extra doors or windows.
Question to ask yourself:
Does my tent have a built in ventilation for AC units, or must I create one myself?
Noise Levels
I'm sure you've heard some of the noise an air conditioner can emit, they can be pretty loud. This is definitely something you don't want while out in nature. The cool thing about nature is that it absorbs sounds much better than urban environments.
Nevertheless, you always want to choose a air conditioner with a low decibel level (dBa). A general rule of thumb, any AC with a dBa under 60 is good and won't bother you, nature or any neighbors.
An air conditioner with a dBa level of 70 and over is going to start making an unpleasant noise, you rather want to avoid this.
Question to ask yourself:
What decibel level (dBa) does my air conditioner have? (Hint: anything under 60 is great.)
Price
As I mentioned at the beginning of this article, air conditioning for camping is rather glamping. Although growing in popularity, most air conditioners are still considered somewhat pricy.
When it comes to air conditioners (and many other things) though, a higher price tag does not necessarily mean a better product. You need to consider all the other things mentioned on this list help you choose the right tent air conditioner for your needs.
If push comes to shove and you are on a strict budget, do not worry, at the end of this article I will teach you how to build a DIY air conditioner. ????
Question to ask yourself:
---
Different types of air conditioners for camping tents
Window Air Conditioners
The ideal air conditioning for camping, these AC's are pretty much the same units that supply cool air to bedrooms or small apartments. They run on about 5000 BTUs and can keep an area of 150 square feet cool.
These air conditioners require a ventilation spot that fits the entire unit. So, unless your tent has a pre manufactured ventilation spot, you may have to construct one yourself.
Small Portable Air Conditioners
Generally, more powerful than a window AC, portable air conditioners are known to cool spaces up to 400 square feet at 12000 BTUs. The downside is these ACs are known to be quite bulky weighing up to 100 lbs.
Portable ACs do require ventilation, but instead of an entire cut out like the window AC, they require ventilation for a small hose point.
The majority of portable air conditioners also act as a dehumidifier and have an internal tray that collects water. If the tray fills up, the AC will automatically turn off until its emptied.
Spot Coolers
Spot coolers are pretty much the heavy duty sisters of portable air conditioners. They often resemble their permanent in home cousins. Running at 15000 BTUs these air conditioners are by far the most powerful.
You will only need a spot cooler for more permanent locations such as a garage or workshop and in our opinion are not necessary for camping trips.
12V Portable Air Conditioner
Battery powered air conditioning units are much easier to setup and use but are often less reliable and powerful than their electric versions.
If you are a couple or solo camper with a small tent, we definitely recommend a battery powered air conditioner for your camping trip.
The way these air conditioners work is that the camper will fill the AC up with ice (or water, in some cases) and a small fan will work to convert this energy into cool air.
---
How to install an air conditioner to a camping tent
Window Air Conditioner
Unless your tent is manufactured to accommodate a window air conditioner (I recommend getting one of these tents), odds are you are going to have to cut a small DIY square into the side of your tent that fits the size of your AC.
First, set your tent up, then using a sharp box cutter, neatly remove a square shaped piece of fabric from your tent.
Bring along your air conditioner and place it on a box or crate next to the hole (the AC needs to be raised off the ground). Move the AC into the square gap. You can use a towel to wrap around the AC to prevent cold air from escaping. Although the extra ventilation may actually help your AC work consistently without switching on and off.
Connect your air conditioner to the electricity outlet using a long extension cable.
Voilà, your window AC installation is now completed.
Portable Air Conditioners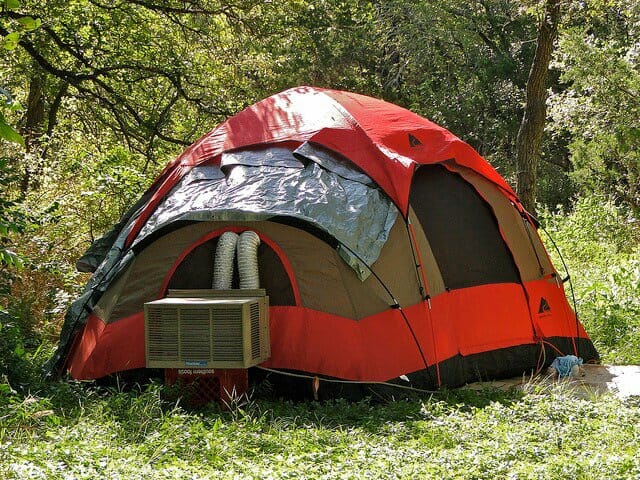 Generally these ACs are easier to install in that they only need ventilation via a small gap in the tent. This means you won't have to go about cutting your tent. 😉
Simply place the AC unit outside of your tent. Try placing it next to a zip down window or door section. You can allow the pipe to slot through your door or window, using the double zippers to meet along each side of the pipe.
Badabing badaboom, you have now successfully installed your portable air conditioner into your tent – easy!
---
Cheap DIY air conditioning for camping
Step 1: Find an old ice cooler or purchase one for $2 – $3
Pretty much any old ice cooler will work, but ideally one with a Styrofoam lid (as you want to cut a holes into it).
The main idea is to prevent as much heat transfer as possible to prevent the ice inside from melting.
Please note: normal plastic or metal boxes without any insulation will not work.
Step 2: Mark down the holes for the fan and the duct
Now its time to measure the holes for both the fan and the small piece of duct you will use.
Use a pencil or pen to measure an accurate cut out line. For the plastic duct its pretty simple, but when you get to measuring the fan, you want to make sure that it will not fall all the way through.
Mark the hole slightly smaller (about 1 cm will do) than the fan at hand. You can use a plastic bowl of sorts similar in size to do this.
Step 3: Drill/cut the holes out
The holes are marked, so now you can begin cutting them out, you can use a box cutter but to make the job easier a jigsaw combi drill will be especially useful!
If you used the Styrofoam version (recommended) you can simply use a knife.
With the drill you need to drill a small hole on the edge of the marking and then use the Jigsaw to cut the rest.
Essentially, a small hand saw will do the trick if you don't have power tools.
Step 4: Fit the fan and the plastic 90° bend (elbow)
With the right sized holes, both the plastic elbow and fan should fit in snuggly.
Now you can begin sealing the crack with waterproofing sealant, this will prevent heat transfer.
Step 5: Fill with ice
This DIY air conditioner will use the heat transfer to work. The more cold surface you have (in this case, the more ice there is), the colder the air drawn in by the fan will get.
Using a large chunk of ice will work best as it takes the longest to melt.
This can be pretty tricky to transport and carry however so freezing 2 L bottles of water is another option.
Step 6: Connect the fan to a 12V battery or solar panel
The type of battery you use will determine how long the air conditioner works for. In this example, a 12V battery is being used.
A solar panel will work great too, and is obviously the more environmentally friendly option.
If you would like follow along to video instructions, watch the video below.
---
Air Conditioning health effects (+8 health benefits)
In hot weather air conditioning for camping can prevent the chance of heat stroke, dehydration (through excessive sweating) and other issues related to hyperthermia.
Heat waves have been recorded as the most lethal type of weather phenomenon in developed countries.
8 Benefits of air conditioning
Reduces high humidity
Reduces Asthma attacks
Better air quality
Reduces the risk of dehydration & heat stroke
Stops insects (like mosquitoes)
Decreases stress
Reduces odor and fumes
Reduces mould growth
---
Air conditioning environmental impacts
This section of the article rather translates to household that use AC not air conditioning for camping. Nevertheless, I feel it's important to raise awareness of the subject regardless.
The production of electricity used to operate air conditioners has an environmental impact, including the release of greenhouse gases. It's these gases that have a direct association with climate change.
According to a 2015 government survey, 87% of the homes in the USA use air conditioning and 65% of those homes have central air conditioning.
The majority of homes with central air conditioning have programmable thermostats, but approximately two-thirds do not make use of this feature to make their homes more energy efficient.
Here's some advice: Set your thermostat to 78F in the summer and 68F in the winter – every degree of extra heating or cooling will increase energy usage 6% to 8%.
Read this article if you are interested in sustainability and making your home more energy efficient.
---
Three best air conditioners for tents we recommend
1. SereneLife SLPAC Portable Air Conditioner for camping- 8,000 BTU
With a built in dehumidifier, this air conditioner is the perfect camping companion when out in humid conditions.
2. Tripp Lite Portable Air Conditioner 
This versatile 12 000 BTU portable air conditioner provides comfort in small spaces whilst remaining easy to move – perfect for solo or couple campers!
3. MIDEA Window air conditioner – 8 000 BTU
This Midea air conditioner is not too heavy or big small and easy to carry – perfect for small families.
Considered A Fan For Cooling?
I totally understand if you are not ready to invest in air conditioning for camping just yet. This doesn't mean you will have to forfeit cooling relief altogether.
Perhaps a portable fan will suit you better, these are cheaper and easier to transport.
A few of my favorite fans for camping are the Odoland Portable LED Camping Lantern and the Stroller Mini. Both these little fans are super powerful and provide enough air circulation for a standard sized tent.
---
Please let me know in the comments section below what you think of air conditioning for camping. I definitely think it's rather for glampers who have a lot of free space in their tents and cars and can afford the luxury of cooling down in hot weather. I don't see myself investing in a AC unit for my tent any time soon, but the DIY version is totally on my camping radar.
Further Reading: