Wait, there's Snowfall in Cape Town?
This is a question you'll hear both foreigners and Capetonians ask. With an average winter temperature sitting between 12°C – 20°C (53°F – 68°F), you might be wondering if snowfall is even possible in Cape Town.
Well, I'm here to tell you that it is!
But not quite in Cape Town city itself, for Capetonians that's some wishful thinking! As a local myself, I can vouch for that. 😉
Before we begin, make sure you dress warmly!
The one jacket I recommend for snow is the wind & rainproof Wantdo Mountain Jacket.
It's trusted by over 7800 customers with a rating of 4.4 out of 5 stars.
---
So, if I can't see snowfall in Cape Town city, where can I?
In winter (June – July) you have a good chance of seeing snow in the following three areas: Ceres, Worcester and Tulbagh.
Snowfall in Ceres (Matroosberg)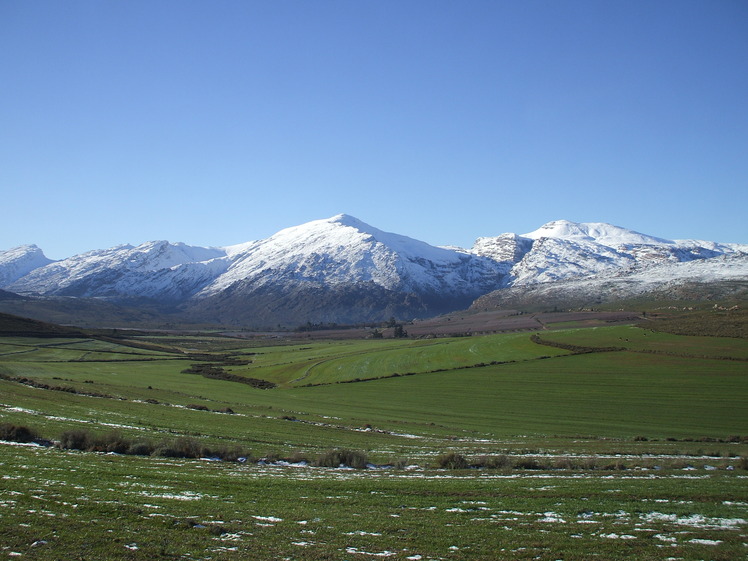 In my opinion, the best place to see snowfall in Cape Town is definitely Ceres, or more specifically, Matroosberg nature reserve.
The Matroosberg is a private nature reserve that lies about 30 km (18 miles) outside of Ceres. The reserve is situated on the farm Erfdeel, a fully functioning farm. They allow many interesting activities on the reserve, such as mountain biking, farm tours, cherry picking, target shooting and many more.
They even recommend bringing your own snowboard so you can enjoy the slopes at your own leisure.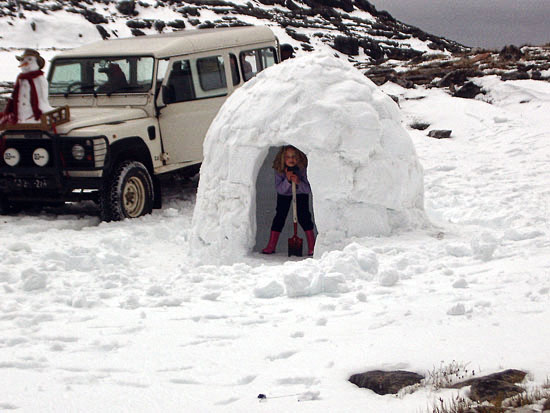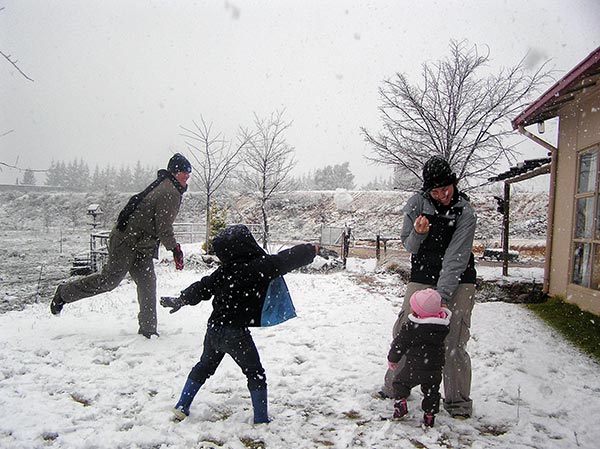 How to get to Ceres/Matroosberg: (Click the map for directions)
Locals tip: If you want to see the snowfall in Ceres, I really recommend that you leave Cape Town in the early morning around 05:00 to 06:00 am. If you leave any later you run the chance of hitting A LOT of traffic. Specifically when you get onto the road that leads into Matroosberg private nature reserve.
That's just too many cars for my liking, I'm sure you'll agree. After sitting in this mess for about 45 minutes (only 18 km [11 miles] away from the reserve), cars coming down the opposite end started signalling to all us snow-hungry sightseers to turn around.
Apparently, the nature reserve (understandably) stopped letting people in. Seeing snowfall is like witnessing a total solar eclipse for Capetonians, the event is so rare that the whole province feels its their duty to observe the spectacle.
---
---
Snowfall in Worcester
About 50 km (31 miles) from Ceres, Worcester is rather a place to experience the snow from a distance (unless you are Alex Honnold).
While you are in the area, I'd recommend taking a walk around the town to see some old churches and interesting buildings. or perhaps visiting one of the various wine estates Worcester is so well known for.
Check out all the activities in Worcester here.
How to get to Worcester: (Click the map for directions)
---
Snowfall in Tulbagh
Tulbagh is a small town found only 26 km (16 miles) from Ceres. Like Worcester, the snowfall in Tulbagh can only be seen from a distance, smothering the mountain peaks.
Tulbagh is actually the fourth oldest town in South Africa, after Cape Town, Stellenbosch and Swellendam, dating back to the early 1700's.
The famous Church street boasts some of the largest number of Cape Dutch, Edwardian and Victorian provincial heritage sites in one road in South Africa.
Snow on the colossal mountains only adds to this town's already unique charm.
How to get to Tulbagh (Click the map for directions)
When can I see snowfall in Cape Town?
Keep in mind that each year is different, these days even more so due to climate change. But generally speaking, the best days to see snowfall are the cold ones, usually from late June to late July.
For example, at the time of writing this article the weather prediction for the day was the following:
Even though it looks partly cloudy with some sunshine, the previous two days looked more like the upcoming Monday and Tuesday.
It's important to note that Ceres lies 450 m above sea level, Worcester 220 m, and Tulbagh 180 m, whereas the majority of Cape Town lies at 0 m above sea level. So, when it's cold in Cape Town city you can bet your sweet bippy it's even colder in the 3 other towns I've just mentioned.
How does snow form?
Snow in the atmosphere
Snow forms when the atmospheric temperature is equal to or below 0°C (32°F) with a minimum amount of moisture in the air.
As long as the ground temperature is at or below freezing, all snowfall will reach the ground. However, if ground temperature happens to be slightly warmer than 0°C it is still possible for snow to reach the ground, but only if the conditions are exactly right. In this case, snowflakes will slowly begin to melt as they reach this higher temperature layer.
If you want to see snowfall in Cape Town (Ceres, Worcester & Tulbagh) a general rule of thumb is if the ground temperature is 5°C (41°F) or above, snow will not form.
Although it can be too warm to snow, it can never be too cold to snow. Snow forms at even the lowest of temperatures, as long as there is some form of moisture present in the air. This is why the heaviest snowfalls often occurs when the air near the ground is relatively warm, usually around -9°C (15°F) – since warmer air holds more moisture.
Snow on the ground
The disposition of the snow surface after snowfall occurs depends on few things, such as the original form of the crystals, and on the weather conditions when the snow initially fell.
For example, imagine that there are high winds during a snowfall in Cape Town. The snow crystals would break into smaller fragments and become more densely packed.
After a snowfall, snow may begin to melt or even evaporate, or it could last for long periods at a time.  If snow doesn't melt, the texture size and the individual shape of the grains will change even if the snow temperature remains below freezing.
Alternatively, they may melt and refreeze over time, eventually being compressed by fresh snowfalls.
Over the winter season, snowpack typically builds up, developing a variety of complex layers. These individual layers actually reflect the weather and climate conditions prevailing at the time of deposition, as well as small changes in the snow cover over time
---
I hope you have a better idea about the snowfall in Cape Town, more specifically in Ceres, Worcester and Tulbagh. If you have any questions pertaining to snowfall in Ceres or any of the other locations do not hesitate to ask me in the comments section below. 🙂
Further reading: